2016 WWE Brand Extension Draft
Note: this draft was done before WWE announced the rules for the draft. Also, we handpicked our general managers. Daniel Bryan was chosen early last week. Looks like I might already have one precision right!
RAW (World Heavy Weight, US Title) – Highlighted in Red: Chosen by Phil Munton
Smackdown (WWE Title, Intercontinental Title) – Highlighted in Blue: Chosen by Louie Simoes
1) Seth Rollins: How can you not choose Seth Rollins?! He was the best before his knee blew out, he's the best now, and will be the best for the future. His skills in the ring are great, second to none really. His mic skills are great, and most of all he can be a great heel or face giving flexibility to any scenario given to him.
Future: Multiple WHW Championships
2) Dean Ambrose: If Seth Rollins in #1 then Dean Ambrose was #1A. There was no other choice that made sense here. Currently, he is the WWE Champion and I see him as a consistent main eventer going forward.
Future: Multiple runs with the WWE Championship
3) A.J. Styles: Why Styles? Because he is PHENOMENAL! (Sorry but I had too) No matter what promotion he has worked, he has been a star. Nothing will change in the WWE, so long as they let A.J. be the phenomenal one he is.
Future: Multiple WHW Championships, Faction leader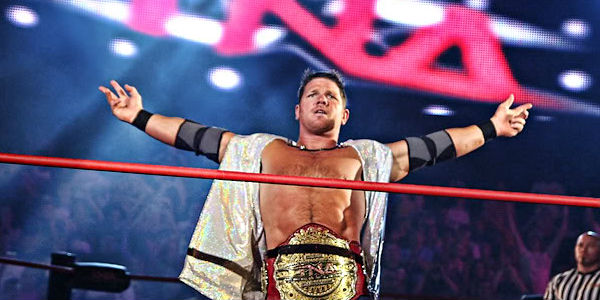 4)Finn Balor: This may have been a shock pick here at #4, but the potential upside of this pick was too good to risk losing him. Finn Balor has blazed an amazing trail in NXT and I see that continuing on Smackdown. While this may ruin any potential feud with A.J. Styles over the club, I see many championship reigns in his future.
Future: Intercontinental Champion and WWE Champion
5) New Day: Quite possibly the best all-around entertaining group in WWE. They continually bring the enjoyment into any feud where, let's face it, the WWE has booked terribly. New Day will continue to be a great trio that can go against anyone in the ring and on the mic.
Future: Multiple time Tag Team Champions, US title for Xavier
6) Kevin Owens: Easily, the best pick left on the board at this point. To leave him on the board beyond this pick would have been an insult to his talents. Easily, one of the best wrestlers at cutting promos and just as talented in the ring, he makes a great foundation for Smackdown's future. He has a bright future.
Future: Intercontinental Champion, Potential Tag Team Champion and WWE Champion.
7) Roman Reigns: The only way to have Roman come back is as a heel, and that's exactly what he will be for my promotion upon his return. He has all the raw skills, the look, the history to become a mega star, but he must be a heel to become a future HOF.
Future: Multiple WHW Championships, US Champion
8) Enzo Amore and Big Cass: This tag team has been a bright spot for WWE programming for quite some time. They are way over with the crowd and have been having great feuds with everyone they've engaged with. They never held the NXT Tag Team Championships, but many runs with the WWE Tag Team Championships are in their future!
Future: Multiple time WWE Tag Team Champions
9) Sami Zayn: I know a lot of people look at this pick and think that's pretty high for a guy that is recently up from NXT with minimal success since that call up. One thing about Sami is he is over, and will always be over no matter what crowd you put him in front of. He is over because of his passion, work inside the ring, and heart. He may not be the biggest, but he makes the best out of every situation.
Future: US champion, Tag Team Champion, possible WHW champion at least once.
10) Wyatt Family: One of the best acts in WWE recently, it's time for the Wyatt Family to run rough shod over a brand. Bray Wyatt has been an overlooked talent for too long. Injuries have hampered a bit of his momentum, but the feud with The New Day has revitalized the Wyatt Family and it is great to see. They should be one of the focal points on Smackdown.
Future: Multiple Tag Team Championship and potentially a WWE Championship (Bray Wyatt)
11) Cesaro: Cesaro is the most under utilized wrestler in WWE. He has the ability to headline, but consistently is maxed out as a mid card. When he was tagging with Tyson Kidd, Cesaro was putting up his best work. The teamwork and connection between them showed inside the ring. He still has some way to go on the mic, but is still solid.
Future: Tag Team Champion (with Sami Zayn), WHW champion, US champion
12) Samoa Joe: Samoa Joe adds an instant main event level talent to the main roster. On top of that he has name recognition that few in NXT have. He could also, allow for a second world championship by converting the NXT title into a main roster championship. Only time will tell, but I see a bright future for Samoa Joe.
Future: Intercontinental Champion, Potentially WWE Champion.
13) Shinsuke Nakamura: Swagsuke is a sleeper pick. Whomever watches NXT knows just how talented Nakamura is in the ring. WWE has not had a great track record of pushing Japanese talents at all, but Nakamura is the real deal and it will be hard for WWE to not notice that and belt him in the future.
Future: US champion, WHW shot, Tag Title Champion
14) Dolph Ziggler: Once pushed as a main eventer when the brands were split previously, this could be just the thing that Dolph Ziggler needs to revitalize his career. Recently, he feuded with Baron Corbin and that helped neither man. Ziggler has loads of talent and getting him on Smackdown could help WWE utilize his talents once again.
Future: Intercontinental Champion, Potentially WWE Champion.
15) Rusev w/ Lana: This is the second time around for Rusev with the US championship, and by far this time is his best work. He is a fantastic heel that entertains on the mic, but is physical and strong inside the ring. Very athletic for a man of his size and stature, plus having Lana by his side helps add to the heel persona.
Future: longest US title reign, faction leader
16) The Miz w/ Maryse: Another former world champion who has found himself further down the card recently. He is one of the few talents on the roster who has the ability to make the crowd boo in a way that is entertaining. Recently, he has received a push and is the current WWE Intercontinental Champion. He is a solid ring worker and great talker. The addition of his wife, Maryse, has given his character a boost as well.
Future: Intercontinental Champion, Tag Team Champion and potentially WWE Champion.
17) John Cena: The face that runs the place (who also falls to 17th in this draft because let's be honest his better days are behind him). Cena is very polarizing, but no matter what, he gets a reaction, and to the WWE that is the sound of $$$. He also is a great person to have on the roster to help build the new and future talent. Great on the mic and will be until he can't speak no more, he can make any feud better just by opening his mouth.
Future: US Title, one more shot to be 16x WHW champion
18) Brock Lesnar: The one in 21-1. The man who ended the streak. The man who just recently returned to UFC on short notice and won. Suplex City is relocating to Smackdown because even in a limited role, he bring much needed importance and star power to Smackdown. Brock Lesnar is an exceptional talent and when a new star rises, beating Brock Lesnar could help cement him in the main event.
Future: Potential Wrestlemania Main event. Possible run with WWE Championship.
19) American Alpha: The team of Jason Jordan and Chad Gable work great for NXT. They have been over with every single crowd (i.e. Dallas, London, and Full Sail). Some tweaks in their in ring hot tags, and making Gable look a little strong as to not get the snot kicked out of him almost every match can make them a fantastic tag team for WWE.
Future: Multiple time Tag Champions, US champion for Chad Gable
20) The Club (Luke Gallows and Karl Anderson): With Finn Balor on Smackdown this pick was a no-brainer. Gallows, Anderson and Balor go back to Japan before AJ lead the Bullet Club, Finn was the leader. With this pick the plan should be to make him the leader again. With that said, The Club should be made a force to reckon with on Smackdown.
Future: Mulitple Tag Team Championship reigns.
21) Chris Jericho: The Best in the World at being the guy I need to help put others over, get into some mid card feuds that'll be entertaining and well done. Unfortunately, Father Time is weighing heavily on Jericho, but he can still boost any matchup. Also, maybe become the brains in a trio tag team.
Future: Mid Card, Ring leader of a faction
22) Randy Orton: Bringing veteran experience and a great work Randy Orton makes a lot of sense at this point of the draft. He establishes star power and can work a heck of a program as well. He's a former world champion with the potential to have another reign.
Future: Upper-Midcard. Intercontinental. Potential World Championship.
23) Alberto Del Rio: Another great option to help put over the new faces for WWE, i.e. Cena and Jericho. That's all really.
24) Sheamus: As recently as December 2015, Sheamus was the WWE World Champion. In more recent times he's been feuding in the mid-card, but he still has potential to establish himself as a full on main eventer. He is still very talented and entertaining. The roster is more rounded because of this.
Future: Upper Midcard, Intercontinental Championship
25) Jimmy and Jay Uso: The Usos are a very serviceable tag team that can help fill holes in programming, as well as if injuries plague the division to help build or hold the belts.
Future: Tag Title champs one more time
26) Bobby Roode: Recently signed to a WWE NXT Contract so this pick is highly unlikely, but his work in TNA cannot be ignored. He was top talent there as both a fan favorite and as a bad guy. Bringing him up and establishing him, could help WWE have more top talent quickly.
Future: Tag Team Champion and Intercontinental Champion.
27) Zack Ryder: Long Island Iced Z is underrated, and proved recently he can be versatile. In NXT, he has been teaming up with Mojo Rawly as the Hype Bros, and it has been reenergizing his career. Since then he has won the IC title at Mania, and been floating from NXT to the main roster, but now that the spilt is happening it gives a chance for someone like Ryder to make his name again.
Future: US title, tag champion
28) Austin Aries: A former TNA World Champion who is helping to enhance talent on the NXT Roster. With the expanding rosters, solid workers are desperately needed to fill out both shows. Austin Aries has long been underrated by the WWE. However, his work enhancing talents in NXT should be enough for WWE to know that a move to the main roster will benefit not only Austin Aries, but the talent as well.
Future: Midcard Wrestler, Potential run with the Intercontinental Championship.
29) Kota Ibushi/Baron Corbin: Now I want Ibushi but I know he won't be signed until after the classic, so I chose Corbin. Yes the dreaded winner of the Andre the Giant Battle Royal, who once crowned never goes anywhere for the next year, but with the brand split comes new horizons for all! Corbin will become a top heel someday of only as a flash in the pan, but he has great size and demeanor and that is more than the rest of the roster has that is remaining.
Future: possible US title, tag team or faction with Jericho.
30) Neville: He may be the man that gravity forget, but Smackdown should not forget him. He is a heck a of a talent with a boatload of potential upside. His promos are still a little raw but his in-ring talent cannot be denied. He's on the mend and should be back soon. He should have a bright future especially with WWE spotlighting smaller talents now.
Future: Possible Intercontinental Title Run, (If revived) Potential WWE Cruiserweight Champion.
1) Sasha Banks: The best female talent available on the main roster. Her feud with Charlotte is going to show that her run with the WWE Women's Championship should have started months ago. Also, this will lead to an eventually show down with a certain NXT talent that should be called up very shortly. Be prepared to see some great matches in the women's division very soon.
Future: Multiple Time Women's champion
2) Bayley: It's honestly way over due for Bayley to get the call up to the big show. She has been the best women's performer in the entire company for the past year. Amazing skills in the ring, and is over with every single crowd on the planet.
Future: Women's champion multiple times
3)Paige: One of the youngest female champions in the history of WWE and the only person to hold both the NXT Women's Championship and the WWE Divas championship simultaneously. While I am disappointed on missing out on Bayley, Paige is a phenomenal talent who has plenty to offer in this division.
Future: WWE Women's Championship
4) Charlotte: Current champion who has been very serviceable in the depleted women's division. She is part of the Four Horse Women and to be honest they are the best thing the WWE has for the women.
Future: Women's champion multiple times
5) Becky Lynch: As the fourth member of the Four Horsewomen, Becky always seems like the overlooked member of the group. She is very talented in the ring and has become quite popular. She is bound to become a WWE Women's Champion.
Future: WWE Women's Championship reign.
6) Naomi: She's banged up, but is one of the lost athletic women in the WWE. Hasn't been pushed properly before, but has the potential.
7)
Carmella: With Enzo and Big Cass already on the Smackdown roster, taking Carmella was a no- brainer. She is one of the most polished talents on the NXT roster and moving her to the main roster makes too much sense. The unfortunate part of this is that it will end the BayMella tag team , but they could re-unite in the future!
Future: Potential WWE Women's Champion.
8) Auska: The queen of NXT, but she has that strong style that will help bring more viciousness to the women's division. No mic skills but her visuals tell a great story.
Future: Multi-time champion
9) Nikki Bella: If Nikki is able to make a comeback; she can be an intergral part of the women's division. She no longer needs to carry the whole division This is good for both her and the WWE as she can prolong her career by wrestling less. This is a risky pick since her return is uncertain, but a gamble that was always worth taking.
Future: Potentially a run with the WWE Women's Championship.
10) Emma: Before her injury, Emma was being pushed into the spotlight more, and I feel it's very deserved. She is a great heel that has the look and the skill.
Future: Women's champion, also a faction leader.